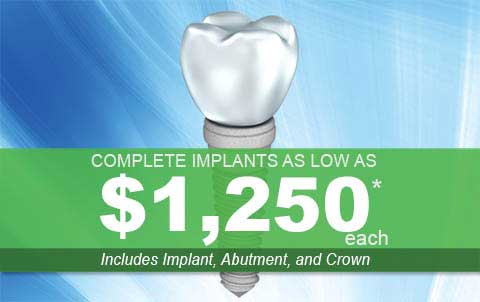 Your One Stop Dental Implant Center
One Stop Implants specializes in high quality and affordable dental implant surgery. We are delighted to present our patients the convenience of permanently replacing missing teeth with dental implants in a single state-of-the-art facility.

Our Southern California offices in Norwalk and Van Nuys are dedicated to providing state-of-the art dental implants at very reasonable prices. Our highly trained, experienced and skilled specialists provide a wide array of dental implant services.

Having dental implants means patients no longer have to live with the embarrassment of ill-fitting dentures that can fall out at inopportune times.
We Use the Latest Technology for Dental Implants
At One Stop Implants and Dental, we use advanced CT scans and other imaging technologies that enables our dentists to examine the jawbone in 3D. Conventional radiography can't do that, which makes it harder for other dentists to accurately place the implant.
Our implants are made of titanium, a metal that bonds quickly with bone and is readily accepted by the human body. It is also highly resistant to corrosion by bodily fluids. The implant acts as the root of the missing tooth and is capped with a crown that gives it a natural look.
In some situations we can replace a tooth right away. Each case, however, is different and we have to consider each patient's needs, dental features and dental history.
We also help patients suffering from complications caused by poorly installed implants by other dentists. Such complications include infections, bone loss, gum disease and failure of the implants themselves. We also fix broken crowns and other damaged appliances and implants. We can help patients with various problems caused by defective implants or poorly placed implants.
If you are interested in getting Dental Implants please give us a call at (818) 786-6000 for a Free Consultation.