Invisalign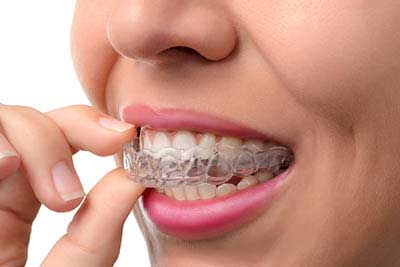 With the new technologies available these days there are many choices for anyone to straighten out their teeth.

Invisalign® is where you use clear aligners which are virtually invisible to achieve the esthetics of straight teeth. Sure, there are other options out there for straightening your teeth, but the convenience that you'll find with Invisalign® as far as daily activities and esthetics are superior to the conventional wire and bracket orthodontics.

Invisalign must be kept in the mouth at all times in order to work effectively. The liners may be taken out of the mouth while eating or drinking and while brushing teeth.
The Invisalign process is simple: After choosing Invisalign, the orthodontist will take a mold of the patient's teeth. The mold is then sent to the aligning company which creates a set of liners for the patient to switch out every week over a set number of weeks.

Invisalign is a great option for those looking for an invisible fix their smile. Custom-made aligners can be taken in and out during special occasions like parties, weddings, and band recitals—and put right back in after to work towards correcting smiles.

Every product has its pros and cons, at One Stop Implants and Dental we offer both the conventional orthodontic treatment and Invisalign® making it possible for our patients to have a one on one consultation with our orthodontist to make an informed decision for their orthodontic needs.