Growing New Teeth is the Next Big Thing

The American College of Prosthodontists recently found over 120 million Americans are missing at least one tooth. Are you one of them? If you're missing a tooth, there are numerous solutions that do their best to fill the gap in your smile. The greatest of these solutions, dental implants, are the number one solution for many toothless patients. A dental implant is a fixed solution that looks and feels natural, increases chewing retention, and doesn't require tedious care. They're also affordable, if you're looking for one in the right place. However, new research points to an even better solution, one that lets us grow new teeth naturally.
Here's where stem cell research comes to play. Recent studies are proving we can just regrow our teeth! Yes, the two sets of teeth we're born with may not be the only ones we have. Check out the development of stem cell teeth, and when we can see it in the future.
Contents
Stem Cell Research Points in the Right Direction
To understand the research behind stem cell teeth, you need to know what stem cells are. Stem cells are jobless cells that don't have a task planned out for them. Stem cells are important because they can take place of missing or damaged cell tissue without a problem. Most notably, stem cells help treat Type-1 diabetics, heart disease patients, even people with Alzheimer's. But now, dentists are finding wide interest in stem cells to restore a missing tooth, and we're not far away from it.
Stem cell research hit a milestone only a couple of years ago, when a team of dentists discovered adult stem cells lay right inside our teeth. If casted correctly, these stem cells can take shape and form a natural tooth without a problem. Medical studies have proven when the stem cells take place of your missing teeth, they'll quickly assimilate and grow new teeth in a matter of weeks.
However, we're currently one step short before growing new teeth. Biomedical engineers are stuck creating a scaffold for stem cells to sit in while they go through the regrowth process. Experts project finding a solution that works 100% of the time may take up to a decade in the lab and go through thorough studies before dentists can offer this solution to toothless patients.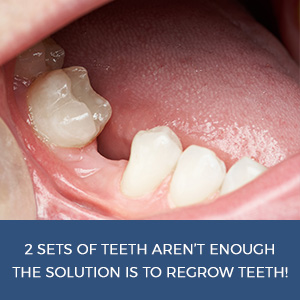 Growing New Teeth Will Have its Benefits
Our chance to regrow teeth is almost here, and we already have high expectations. First off, being able to grow new teeth means our milk and adult teeth are not alone. It doesn't mean you should stop all dental care, but if by chance one of your teeth fall victim to tooth decay or pop out in an accident, you have options to bring it right back!
Another great benefit of being able to regrow teeth is we're able to replace enamel. Enamel is a thin layer that protects our teeth, and it's also the layer that makes our teeth look white. However, enamel doesn't repair on its own. Once it's gone, it's gone. Stem cell research may be the key dentists have been looking for to unlock a way to repair worn-down or missing enamel.
Lastly, the best solution for a missing tooth will be to grow new teeth! Bridges are hard to deal with, as the dentist must saw down adjacent teeth beforehand. Dentures are only good if you're edentulous, but are notorious for causing sunken jaw. Dental implants are the closest solution next to a natural tooth, but even multiple implant posts can weigh down on your jaw. Growing new teeth will be different, as its all natural and you won't have to worry about extra cleaning steps to take care of them!
Learn When We Can Regrow Teeth
It's a waiting game from here on out as to when we'll have the chance to grow new teeth. If you're one of 120 million Americans dealing with a missing tooth, remember we're only years away from being able to regrow teeth. For more information concerning any progress on stem cell research, please connect with us through our website or social media today!