The Differences Between Dental Implants & Bridges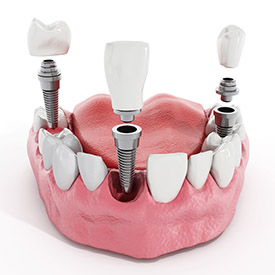 Teeth can be a very sensitive subject for dental patients, especially when it comes to replacing a missing tooth. A missing tooth can affect self confidence, can be an inconvence, and in some cases can effect quality of life and ability to chew food and speak eloquently. When it comes to choosing between a dental implant or a dental bridge, the decision is very difficult. Before a patient can make a decision like this, one needs to first know the differences between the two. 

Dental Implant

When a patient chooses to have a dental implant put in, they are usually committing to multiple office visits for sizing, fitting, and the actual procedure itself. Luckily, at One Stop Implants, the entire procedure can be done directly in our office! A dental implant is drilled into and mounted in the jaw bone, the procedure is usually done with anesthesia. This provides a sturdy hold and a long-term, stand-alone solution. A dental implant will look and feel like a real tooth and you dentist will match the shade of your implant with your natural teeth. A dental implant is easier to care for than a dental bridge however, not all patients are surgical candidates.

Dental Bridge

A dental bridge is much different than an implant. Donning the name bridge because it literally creates a bridge attached to either tooth. In this procedure, the dentist files down the two teeth bordering the missing tooth and attaches the bridge. It is also matched to the color of your natural teeth. One of the draw backs here is that you cannot floss between the teeth making it harder to clean, which may lead to potential drawbacks such as tooth decay and dental disease for those who don't keep up on their oral hygiene. However, placing a bridge does not require surgery and generally can be finished quicker than a dental implant.

Cost

A very strong factor in deciding whether a dental bridge or a dental implant is right for you can be the cost of the procedure. For a dental bridge a patient can expect to pay a couple hundred dollars to a thousand per tooth. With a dental implant we can expect to see costs of anywhere from one to two thousand dollars per tooth. Insurance typically will pay a percentage for either a bridge or implant if the procedure is medically necessary, for many insurance carriers this can mean they will only replace teeth in certain locations within the mouth.

Final Note

Try not to base your decision purely on cost, as a dental implant typically lasts a lifetime longer than a bridge due to its solid mounting and stand alone status. If you have been thinking about a dental implant feel free to give us a call at One Stop Implants. Its our passion to improve the quality of life for all of our patients. We're standing by at 800.862.2249 to answer all of your questions and help you make an informed decision. We even schedule free consultations, if you'd rather speak to a dentist in person.